Welcome to Hong Kong

Wei following Naz
Information
Start
Aberdeen
End
Unknown Hong Kong jail
Rewards
None
Progression
Previous
Next
None
Going Under
Welcome to Hong Kong
is a mission in
Sleeping Dogs
. It is the first mission of the game and acts as a tutorial to free running as well as a game introduction.
Background
Wei Shen and Naz Singh arrive at a drug deal with a triad member, while the HKPD are secretly monitoring the deal on cameras. Suddenly a security guard wanders out of a building and attempts to stop the deal. The buyer hacks at the guard with a meat cleaver and police swarm around the drug deal, resulting in an all-out chase.
Walkthrough
Police swarm in on the deal's location, and Naz leads the way. Follow the on-screen prompts to jump and hoist yourself over obstacles. Follow Naz through the docks and shipyard, through the market stands, and over rooftops. Unfortunately, there is nothing that can be done to escape the sheer number of cops. Wei is promptly arrested.
Thomas Pendrew and Raymond Mak introduce Wei into their investigation of the Sun On Yee. Their goal is to capture the leader (the Dragon Head), along with high-ranking lieutenants, called Red Poles. Their first planned red pole target is Winston Chu, an arrogant, hotheaded lieutenant who's the leader of a faction of triads called the Water Street Gang. Wei accepts the case and Pendrew is pleased, though Raymond knows that Wei has a troubled history, with a vendetta to partner with the assignment.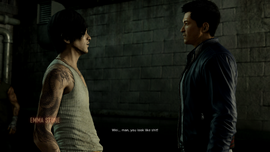 While waiting around in a prison cell, Wei reconnects with his childhood friend, Jackie Ma, after 15 years. Wei expresses interest in Jackie's recent triad connections, and Jackie promises to introduce Wei into the Water Street Gang.
Ad blocker interference detected!
Wikia is a free-to-use site that makes money from advertising. We have a modified experience for viewers using ad blockers

Wikia is not accessible if you've made further modifications. Remove the custom ad blocker rule(s) and the page will load as expected.