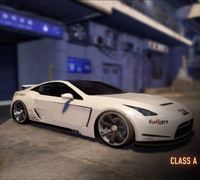 "The ultimate autosports appliance: a technological triumph."
―In game description
The Wangan GSX is a vehicle featured in Sleeping Dogs.
It is based on the Nissan GT-R and Nissan 370z. In the real world, the GT-R (and also its predecessors, the Skyline GT-R) is a popular car for highway runs.
The Wangan GSX has a radio ad. In the advert, it's said that it has a 6-speed automatic transmission and all-wheel drive. This, in fact, is a nod to the real-life Nissan GT-R, which also has both 6-speed automatic transmission (with manual mode and dual clutch) and all-wheel drive. Its slogan, "A legend in the making" is also a nod to Nissan GT-R's continuing popularity.
The description refers to GT-R's predecessors' reputation for winning many races and Nissan GT-R's technological advancement achieved through long process of research and development (it took 5 years just to develop the GT-R).
Wangan (湾岸) is a Japanese word, referring to Japan's Bayshore Route expressways which stretch 70 kilometers between Yokohama and Ichikawa and bypasses through Tokyo.
Trivia
If a Wangan GSX is painted white (as shown in picture), it looks very similar to Mine's GT-R R35. However, Wangan GSX's canards are notably longer than real-life Mine's GT-R's canards.
The name "Wangan" was derived from Japanese waterfront highway system.
A custom version of the Wangan GSX which appeared in the "Cheaters Never Prosper" mission and street races has vinyls that read "GSX" and "Kumbo" on it. Note that "GSX" is a clear pun on "GT-R" and "Kumbo" is a pun on "Kumho", a Korean tire manufacturer.

"GSX" is also similar to NSX,a car from the Japanese manufacturer Honda.

Other stickers that may appear on the customized Wangan GSX are "BFS" (a clear pun on HKS, a Japanese tuning company), and "fallgn" (stylized in a way that it resembles Fidanza's logo. Fidanza itself is a clutch, flywheel and cam gear manufacturer).
Wangan GSX has more circular bodywork (most notably, at its front bumper) than the real-life Nissan GT-R, which has many sharp angles on its bodywork.
It is one of the only A-class vehicles to have a trunk.
Gallery
Ad blocker interference detected!
Wikia is a free-to-use site that makes money from advertising. We have a modified experience for viewers using ad blockers

Wikia is not accessible if you've made further modifications. Remove the custom ad blocker rule(s) and the page will load as expected.