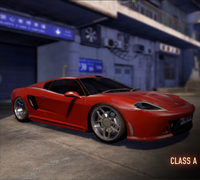 "Bespoke engineering injects passion into pure sports luxury."
―In game description
The Tuono is a class A vehicle featured in Sleeping Dogs. It is the second most expensive car at HK $605,000, and Face Level 7 is required to buy it.
Although is closely resembles a Lexus LFA, it is clearly based on an Italian car, most likely a Ferrari F430 Scuderia. Two of the paintjobs feature stripes in Italian colors (like the ones on a Ferrari F430 Scuderia), and the Tuono is mid-engine, where the Lexus LFA is front engined. Also, Tuono is the Italian word for "thunder."
It is the second fastest car besides the Velocita. The handling of the car is however, much better than the Velocita.
Any suit with the Master Negotiator bonus will lower the price to HK $514,250, with the Dai Lo it will be as low as HK $296,250. Unlike many other vehicles in the game, the Tuono has five different paint jobs, instead of the normal three. 
Its description refers to Lexus LFA's advanced engineering achieved through extensive use of carbon fiber, a bespoke-engineered powerplant, and a full-color digital instruments.
Trivia
The default radio station of the Tuono is Daptone Radio.
Ad blocker interference detected!
Wikia is a free-to-use site that makes money from advertising. We have a modified experience for viewers using ad blockers

Wikia is not accessible if you've made further modifications. Remove the custom ad blocker rule(s) and the page will load as expected.