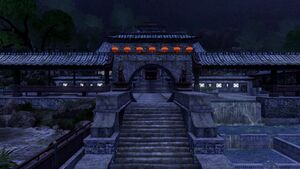 Temple
is a location in
Sleeping Dogs
. It is located in
North Point
.
Ting wants Wei Shen to photograph the temple shrines in the temple in her side quest.
Reading about Sifu Kwok's Old Temple Martial Arts School in her Hong Kong guidebook, Amanda Cartwright mistakenly assumes it is located in the Temple. Agreeing to act as her guide, Wei Shen takes Amanda to the Temple on the way to real location of Sifu Kwok's school.
Wei Shen visits the Temple properly when Peggy Li requests a rare Black Lotus Flower for her wedding to Winston Chu, it is the only location in Hong Kong where the flower is grown, the monks refusing to sell one for any price. Sneaking into the Temple and borrowing a monk's robe, Wei Shen is able to bluff his way past the Temple's monks until he picks a flower, forced to fight his way out.
Mission Appearances
Trivia
The bulk of Temple is reused with some palette and topography changes for the Hidden Island's Temple Hub in the Zodiac Tournament Pack DLC.
When Wei shows Amanda the temple, he explains that it was used as the setting for a movie called "Grandfathers of the Xiaolin Fist" after she initially mistook it for the setting of "Fists of Carnage".
According to Ponytail, the Sun On Yee used to use the temple as their location for initiating new members.
Gallery
Ad blocker interference detected!
Wikia is a free-to-use site that makes money from advertising. We have a modified experience for viewers using ad blockers

Wikia is not accessible if you've made further modifications. Remove the custom ad blocker rule(s) and the page will load as expected.