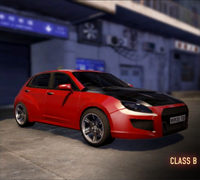 "Winning races proves profitable."
―In game description
The Taikai is a vehicle featured in Sleeping Dogs.
Taikai is based on the third generation Subaru Impreza WRX STI. It is a Class B tuner car, same as the Neo V and Drifter GT (both Neo V and Taikai resembles two of Japan's most prominent sports cars: the Mitsubishi Lancer Evo and Subaru Impreza WRX STI). The number plate WIR35 TID is an anagram of "Wires Tied". Also, Taikai's number plate layout is similar to UK license plates (a possible nod to a fact that Subaru Impreza is very popular in UK because the late rally driver Colin McRae drove one in his debut).
Note: Taikai's rear wing is similar to Ken Block's rally-modified Subaru Impreza. The in-game description refers to Subaru Impreza's reputation for winning rallies and relatively high sales figures due to it's race-proven reliability.
Taikai is Japanese word (大会) for "tournament" or "rally" which contains reference to Subaru Impreza's pedigree: rally tournaments.
It has similar engine sound to Neo V sports sedan, but Taikai's (and also Triad Enforcer Car's) engine sound is lower-pitched, mimicking a boxer engine sound, just like real-life Impreza WRX STI. The rear of the car likely resembles the Honda Civic Type-R III Hatchback.
Gallery