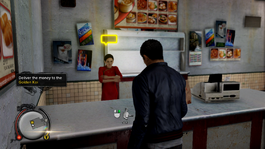 Susan's Lunch is a favor in Sleeping Dogs. Favors are optional except for this one. They allow Wei to "gain face", giving him experience and unlocking the ability to purchase more clothing, vehicles etc.
After Wei has collected the payments from the Night Market vendors, another vendor, Susan, asks him to run some money over to the Golden Koi to pay for her lunch.
The waypoint is locked onto the Golden Koi restaurant. Make your way through the market. As you reach the front of the restaurant, a mass of thugs will be loitering out front, looking to start a fight. Deal with them before you head inside and pay the cashier behind the counter.
Rewards: HK $200, Field Report: Winston Chu
Ad blocker interference detected!
Wikia is a free-to-use site that makes money from advertising. We have a modified experience for viewers using ad blockers

Wikia is not accessible if you've made further modifications. Remove the custom ad blocker rule(s) and the page will load as expected.