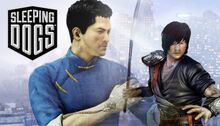 The Screen Legends Pack is a DLC for Sleeping Dogs. The pack features two legendary outfits combined in one pack, with a new buff and an exclusive weapon.
The Lightning Warrior outfit comes complete with a striking look and your own everlasting sword, always available in your apartments. Unlike other melee weapons (the only exception being the golden cleaver), the sword will not be discarded and can be used on most NPCs and Gang Members; however, the only times that the sword will be discarded is if Wei participates (win or lose) in a Martial Arts Club or if he gets killed or arrested and respawns in a Hospital or outside a Police Station, respectively, while wearing the Lightning Warrior outfit. Wei will only regain his sword if the player changes his attire and changes back to the Lightning Warrior.
The unique Wing Chun Master outfit improves your melee counter strikes and commands respect.
Trivia
The outfits included in the Screen Legends pack are inspired by popular genres in Chinese cinema.
Gallery
Ad blocker interference detected!
Wikia is a free-to-use site that makes money from advertising. We have a modified experience for viewers using ad blockers

Wikia is not accessible if you've made further modifications. Remove the custom ad blocker rule(s) and the page will load as expected.