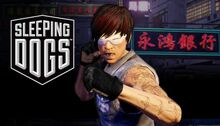 The
Retro Triad Pack
is part of
Sleeping Dogs
DLC
, released in August.
Description
Go old school with a killer look and ride straight out of the 80's! New hair, accessories, clothes and boots are combined with an 80's style kung fu van to complete the look. Items come with their own buffs, increasing your damage resistance, Triad and Face experience and striking damage. With this new look everyone will know you are big trouble on the streets of Hong Kong.
The DLC includes the following:
Airbrushed Dragon Armored Van - Black Van, unable to change base color. It has a painted dragon on both sides of the van, with an astounding armor rating comparable to a Knox Armored Car.
Snow Goggles- Gives 5% face experience.
Fingerless Gloves - One replaces your watch and one replaces your bracelet on a custom outfit. Each gives +5% striking damage. Which is stackable. Note that (at least on PS3) the gloves disappear when paired with any longsleeve jacket or shirt, yet still provides the bonuses.
Retro Shaggy Hair - Gives 5% face experience. Black with red highlights. When wearing the hair you'll never have to wear a helmet while riding a motorcycle.
Black Ankle Boots, Ripped Tight 80's Jeans, & Cutoff Denim Jacket- Gives special retro triad bonus* when worn together.
Also includes a preset outfit combining all clothing pieces and giving Special Retro Triad Bonus**
The official description states the "Special Retro Triad Bonus" effects damage resistance, Triad & Face experience, and striking damage. However the exact precentages are not revealed in the DLC.

It is also unclear if the effects of the Snow Goggles, Fingerless Gloves or the Retro Shaggy Hair are stacked on top of the Retro Triad Bonus in the preset outfit.
Behind the scenes
Like much of the game itself, this outfit is an tribute to a classic kung fu movie. This particular set can likely be traced back to the movie "Big Trouble in Little China". In the airport scene, one of the gang members had very similar shaggy hair and snow goggles. Another was shown with the same fingerless gloves.