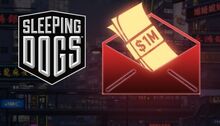 The Red Envelope Pack is part of the August set of Sleeping Dogs DLC. Purchasing it causes red envelopes containing $50,000 each to spawn outside each parking garage.
Description
Need help buying that fast car, fancy threads or luxury items for your new apartment? For fortune and prosperity download the Red Envelope Pack. There are 20 envelopes each stuffed with $50k, scattered throughout Hong Kong, find them all and you'll net a cool 1 Million HK dollars to spend on whatever you want.
Ad blocker interference detected!
Wikia is a free-to-use site that makes money from advertising. We have a modified experience for viewers using ad blockers

Wikia is not accessible if you've made further modifications. Remove the custom ad blocker rule(s) and the page will load as expected.