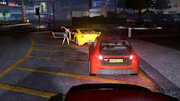 Patsy Wang
is a character in
Sleeping Dogs
. She is an associate of
Four Finger Wu
who uses her to transport drugs. Patsy also owes money to
Roland Ho
who sends
Wei Shen
to find her and take the drugs.
After getting into her car in the mission "Uncle Po" and the player doesn't stop the car, Patsy will jump out of it while Wei Shen remarks that he wasn't going to do anything, however if the player stops the car she will just run out while Wei Shen tells her to always pay on time.
Mission Appearances
Sleeping Dogs
Ad blocker interference detected!
Wikia is a free-to-use site that makes money from advertising. We have a modified experience for viewers using ad blockers

Wikia is not accessible if you've made further modifications. Remove the custom ad blocker rule(s) and the page will load as expected.