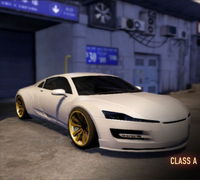 "Piss off your neighbors."
―In-game description
The Panzer is a vehicle featured in Sleeping Dogs. It is the cheapest Class A car available, and the second-cheapest Class A vehicle. The car can be bought in Kennedy Town. The Panzer is based on the Audi R8.The rear of the car is reminiscent of that 1999 Mitsubishi Eclipse with inner tailights of the Jaguar XF facelift.
If Tran requests the Panzer, it will be worth HK $240,725.
Trivia
Ironically, the word panzer in German stands for "Tank" it could however be referring to its reputation from Hotshot who also drove a panzer aggressively in the main story.
It is possible that is a sports version of the Executive as both cars have same front counterpart and are both based on Audi cars.
Gallery
Ad blocker interference detected!
Wikia is a free-to-use site that makes money from advertising. We have a modified experience for viewers using ad blockers

Wikia is not accessible if you've made further modifications. Remove the custom ad blocker rule(s) and the page will load as expected.