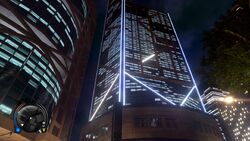 The Mortensen Electric Building is a skyscraper in Sleeping Dogs that the player cannot enter.
It features diagonal white lights that move in a marquee-like manner. At the back of the building it is said to be the Central Bank.
It is modeled after the Bank of China Skyscraper in Admiralty, Hong Kong.
Gallery
Ad blocker interference detected!
Wikia is a free-to-use site that makes money from advertising. We have a modified experience for viewers using ad blockers

Wikia is not accessible if you've made further modifications. Remove the custom ad blocker rule(s) and the page will load as expected.