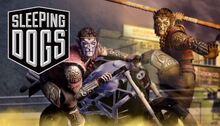 The
Monkey King Pack
is a
DLC
for
Sleeping Dogs
. It features The Sun Wukong, also known as the Monkey King. He is a main character in the classical Chinese epic novel Journey to the West – a magical monkey born from a stone who acquires supernatural powers through Taoist practices. One of the most enduring Chinese literary characters, Sun Wukong is a skilled fighter but is also irrepressible, egotistical and prone to mischievous pranks.
The Monkey King Pack will be available to download for Xbox 360, PlayStation 3 and Windows PC on the following dates:
Xbox LIVE – Available Now for 160 MSP
PlayStation Network (North America) - Tuesday 5th February for $1.99
PlayStation Network (Europe) - Available Now for €1.49 / £1.19
PlayStation Network (Australia) - Available Now for AU$2.15
Steam - Available Now for $1.99 / €1.49 / £1.19
Contents
Trivia
At one point there was a community vote to decide on what DLC United Front Games would create next. The choice was between a Fireman DLC or The Monkey King Pack. The Monkey King pack recieved the most votes and was therefore created.
Sources
http://www.sleepingdogs.net/news/the-community-has-spoken
Gallery
Ad blocker interference detected!
Wikia is a free-to-use site that makes money from advertising. We have a modified experience for viewers using ad blockers

Wikia is not accessible if you've made further modifications. Remove the custom ad blocker rule(s) and the page will load as expected.