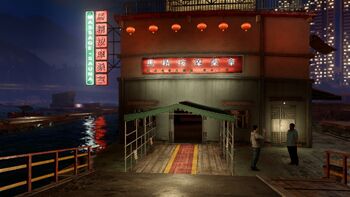 Massage Parlours
are located in various parts of
Hong Kong
. Going to Massage Parlours speeds up Face accumulation.
Notes
By wearing the Business outfits (Bargain Hunter, All Business and Master Negotiator) you will receive a discount. The Extra Special Massages upgrade, available upon reaching Face Level 6, will allow massages to do 50% more to increase Wei's Face Meter build-up. The Di Lao upgrade at Face Level 10 applies to massage parlors as well.
Ad blocker interference detected!
Wikia is a free-to-use site that makes money from advertising. We have a modified experience for viewers using ad blockers

Wikia is not accessible if you've made further modifications. Remove the custom ad blocker rule(s) and the page will load as expected.