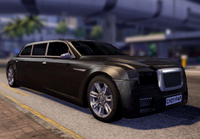 The
Limo
is a
vehicle
featured in
Sleeping Dogs
.
The car resembles a stretch limo version of the Rolls Royce Phantom, although with different rear light shape (boomerang-like instead of trapezoidal). Since it's an ultra-luxury vehicle, the Limo is rarely found in Hong Kong streets. It is a limo version of the Bismarck, and is not purchasable.
Notable Owners
Gallery
Ad blocker interference detected!
Wikia is a free-to-use site that makes money from advertising. We have a modified experience for viewers using ad blockers

Wikia is not accessible if you've made further modifications. Remove the custom ad blocker rule(s) and the page will load as expected.