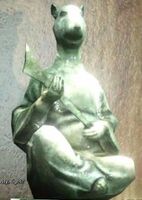 "Part of a set of twelve. One for each animal of the Chinese calendar."
―Sifu Kwok on the rat statue
Jade Zodiac Statues are collectibles in Sleeping Dogs.
The statues originally belonged to Sifu Kwok, but they were stolen from his martial arts academy by a former student. Sifu only had one left out of 12.
There are 11 Jade Zodiac statues for Wei Shen to find. 8 can be found at any time in the game after meeting Amanda, allowing the player to access powerful moves early on in the game. Every time he returns one to Sifu, Sifu shows his gratitude to Wei by teaching him a new martial arts move. They will also discuss various topics as well, such as what it was like in the United States, Wei's current state of mind, advice on how to see the future, whether San Francisco or Hong Kong feels more like home, whether or not Wei is now ready to confront his fears, and more.
Dating Tiffany Kim will show the locations of the statues on the minimap.
Locations
Gallery
Ad blocker interference detected!
Wikia is a free-to-use site that makes money from advertising. We have a modified experience for viewers using ad blockers

Wikia is not accessible if you've made further modifications. Remove the custom ad blocker rule(s) and the page will load as expected.