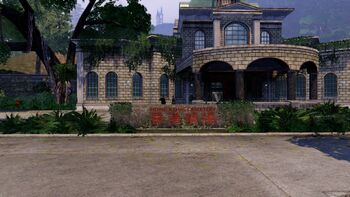 The Cemetery is a location in Sleeping Dogs. The front gate of the cemetery resembles the one in the Aberdeen Chinese Permanent Cemetery in real life.The Cemetery makes two prominent appearances. The first being in the main story when Wei, Jackie, Ricky, and the major Sun On Yee red poles gathered for Uncle Po's funeral. The next appearance was in the ending to "Nightmare in North Point", where Wei and Not Ping show up to leave a bowl of noodles as an offering on Vincent's grave.
Mission Appearances
Sleeping Dogs
Gallery
Ad blocker interference detected!
Wikia is a free-to-use site that makes money from advertising. We have a modified experience for viewers using ad blockers

Wikia is not accessible if you've made further modifications. Remove the custom ad blocker rule(s) and the page will load as expected.