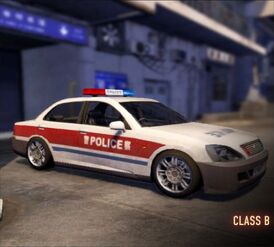 "Driven by Hong Kong's finest."
―In game description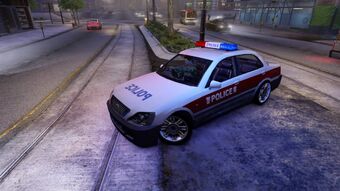 The HKPD Cruiser is a vehicle featured in Sleeping Dogs. It is available in the 'Law Enforcer Pack' DLC. It is the police version of the civilian car, the Kleinod.
These cruisers are seen driving around Hong Kong and are represented by a blue star with a small blue circle around it on the player's minimap. Should the player commit a crime in this circle, Wei Shen will instanly obtain a heat level, depending on how severe the crime was. There is usually one police officer in the police cruiser, but on heat level two or higher, there are two police officers. As Wei gets a heat level 3 or higher, police cruisers start to be replaced by more durable vehicles such as the Cop SUV.
Wei can activate the siren while driving the police car and can also listen to the HKPD radio station. Wei can also obtain a Pump Shotgun from the trunk of the police car, provided that the player has unlocked the Police Trunk key upgrade.
Trivia
If Wei is to take an occupied Police Car from the right side, it is not possible for Wei to steal a Police Car as the Police officer inside will slam Wei's Head to the door and Push him away, usually resulting in a Heat level, however, if Wei is wearing any Police Outfit, he will use his alternate animation of showing his badge, signalling the driver to leave the car and say "Stop! Police" or "Hong Kong Police", although this applies only if Wei is near the left side as he will still use the standard animation if he is to take the car from the right side, still resulting in the Police Officer to slam Wei's head and push him away although Wei will not earn a Heat level.
Ad blocker interference detected!
Wikia is a free-to-use site that makes money from advertising. We have a modified experience for viewers using ad blockers

Wikia is not accessible if you've made further modifications. Remove the custom ad blocker rule(s) and the page will load as expected.