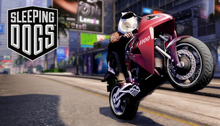 The Ghost Pig Pack is a DLC for Sleeping Dogs.
Description
We're tremendously grateful for the support that the videogames community has given to Sleeping Dogs since its launch in August. As a small token of our appreciation, we're releasing a second complimentary downloadable content pack for everyone to enjoy, 100% free of charge.
And what would a free add-on pack be without the inclusion of a set of hats? After all, everyone knows free hats are the life-blood of the community. But enough of my waffle – on to the screenshots!
But that's not all – downloading the Ghost Pig Pack will also unlock the gold .50cal pistol after completion of the game's main story. Plus, if you pre-ordered the game and have the Police Protection Pack installed, then this add-on pack will also unlock the Supercharged SWAT Cruiser vehicle in your garage and the SWAT Outfit in your safehouse wardrobe.
- Official website.
Gallery
Ad blocker interference detected!
Wikia is a free-to-use site that makes money from advertising. We have a modified experience for viewers using ad blockers

Wikia is not accessible if you've made further modifications. Remove the custom ad blocker rule(s) and the page will load as expected.