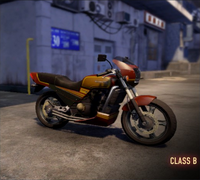 "A city cruiser ideal for the crowded urban environment."
―In game description
The GX300 is a vehicle featured in Sleeping Dogs.
It is a cruiser bike with 1990s design styling, seemingly based from the Suzuki GS550E cruiser bike with front light 'mask' accessories added. The GX300 is slightly faster than 270 DX cruiser bike (both are cruisers and both are Class B motorcycles), making it ideal for Hong Kong's twisty roads.
It is manufactured by the fictional company - Tomoshiba.
Gallery
Ad blocker interference detected!
Wikia is a free-to-use site that makes money from advertising. We have a modified experience for viewers using ad blockers

Wikia is not accessible if you've made further modifications. Remove the custom ad blocker rule(s) and the page will load as expected.