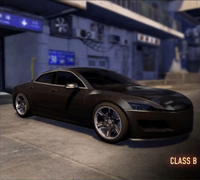 "Executive makes the four door performance coupe a reality."
―In game description
The Executive is a vehicle featured in Sleeping Dogs. It is a class B vehicle and  at a face level of three it can be purchased at Top Glamour Imports for HK $210,000. The overall profile of the car is based off an Aston Martin Rapide (2010-2013 model), with design elements of the Audi R8 and Fisker Karma.
The car is likely to be a 4-door version of Panzer as they have same front counterpart and are based on Audi cars.
Gallery
Ad blocker interference detected!
Wikia is a free-to-use site that makes money from advertising. We have a modified experience for viewers using ad blockers

Wikia is not accessible if you've made further modifications. Remove the custom ad blocker rule(s) and the page will load as expected.