"Excellence Engineered."
―In game description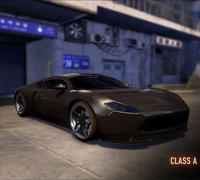 The Etalon is a vehicle featured in Sleeping Dogs. It drives at high speeds and, once you have reached face level 6, Etalon can be purchased from the Kennedy Town Docks for HK $520,300. Visually, the Etalon's bodywork resembles the Zenvo ST1, a Danish super car and Noble M600, although the front and rear light resembles the Maserati GranTurismo. Its license plate, "FA5T 8ACK" is leet speak for "FAST BACK".
Despite the Etalon being modeled on a Zenvo, its engine sounds like that of a Mercedes C63 AMG.
Sun On Yee's enforcer, Mr. Tong owns a charcoal black Etalon -- a car Wei drove to the docks after killing Mr. Tong in a sauna facility, he also stole his outfit, and his machete.
Gallery
Ad blocker interference detected!
Wikia is a free-to-use site that makes money from advertising. We have a modified experience for viewers using ad blockers

Wikia is not accessible if you've made further modifications. Remove the custom ad blocker rule(s) and the page will load as expected.