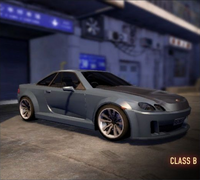 "Tuner car, at home going flat out, sideways, on a highway ramp."
―In game description
The Drifter GT is a vehicle featured in Sleeping Dogs. The vehicle has visual elements resembling the Toyota Soarer (roof from the mid-80s Soarer and body from late 90s Soarer), despite the fact that it's shorter than the real-life Toyota Soarer. It has a turbocharged engine, typical in Japanese tuners and also Toyota Soarer, which has a 2.5L inline-six turbo engine in it's option list.
This vehicle is usually seen at street racing conventions with different paintjobs and also stickers on it.
As it's name says, this car is a really good choice for drifting or dodging corners, hence the fact that Toyota Soarer (or Lexus SC) is popularly converted into drift racing cars in Japan. It's in-game description, especially "at home going flat out" is a nod that Toyota Soarer is used for highway patrol vehicles in Japan (and also the fact that it's a GT car, intended to go at high speed on highways).
Ace, a notable street racer up until his death, owns a Drifter GT, modified with six-spoke rims and a racing paintjob. It was destroyed after being rammed by Hotshot, causing it to lose control, escaped the guardrails and hit the stones at the coast below, claiming it's owner's life.
Gallery
Ad blocker interference detected!
Wikia is a free-to-use site that makes money from advertising. We have a modified experience for viewers using ad blockers

Wikia is not accessible if you've made further modifications. Remove the custom ad blocker rule(s) and the page will load as expected.