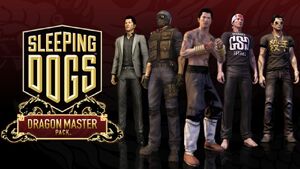 The
Dragon Master Pack
is a
DLC
for
Sleeping Dogs
.
Website Description
Previously only available individually at pre-order, the huge Dragon Master Pack boasts five pre-order packs in one. The ultimate collection of killer content for Sleeping Dogs, this new add-on pack offers players high-speed highway shootouts, martial arts monks, police patrol missions and more. The Dragon Master Pack bundle is priced at 640MSP / $7.99 / €6.49 / £5.10 and is available to download from today on Xbox LIVE, PlayStation Network and Steam.
Included Content
Gallery
Ad blocker interference detected!
Wikia is a free-to-use site that makes money from advertising. We have a modified experience for viewers using ad blockers

Wikia is not accessible if you've made further modifications. Remove the custom ad blocker rule(s) and the page will load as expected.