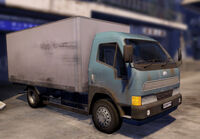 The
Cung Sau
is a
vehicle
featured in
Sleeping Dogs. 
It appears to be based on the Toyota Dyna and the Hino Dutro, both are very popular light trucks in east Asia. It has three variants. A Box Variant(the only variant that can be seen parked in various locations), a Flat Bed Variant and a Tanker Variant(both of which are only seen in traffic).
Locations
Can be randomly found in Traffic.
Two of them are parked next to Wei's apartment in North Point. Both have Blue cabs and sport the Top Glamour imports logo.
A Red variant can be seen parked near a pier in Aberdeen where Wei can encounter three Gang Members. Another one can be seen parked in the harbour area of North Point.