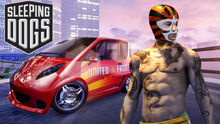 "Specially prepared by the development team at UFG, from us to you 100% free of charge."
―Official Description.
The
Community Gift Pack
is a
DLC
for
Sleeping Dogs
.
Website Description
Get kitted out with a selection of free gifts, our special thank you to the community. Get yourself an exclusive UFG tuned Bisai car with loud paintwork and an even louder engine. Complete the look with a UFG t-shirt. Also included is an authentic luchadore wrestler mask, as an extra token of our appreciation.
Trivia
According to DLC Release News and other Description of DLC(Like Console page), The UFG t-shirt is the same thing to only given employees of UFG.
Gallery
Ad blocker interference detected!
Wikia is a free-to-use site that makes money from advertising. We have a modified experience for viewers using ad blockers

Wikia is not accessible if you've made further modifications. Remove the custom ad blocker rule(s) and the page will load as expected.