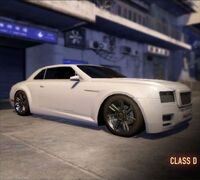 "Known the world over."
―In game description
The Bismarck is a vehicle featured in Sleeping Dogs.
It is likely based on the Rolls-Royce Phantom Coupé. It is a Class D car, putting it on par with Ridge Sport, and also, the largest coupe in the game. Sonny Wo is a notable owner of The Bismarck.