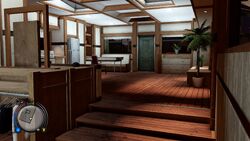 The
Aberdeen Houseboat
is a houseboat
safehouse
available to
Sleeping Dogs
protagonist
Wei Shen
, and the third to be made availiable to him.
The houseboat is nicely furnished with hardwood floors. There is a kitchen, a useable bathroom, a wardrobe for Wei to change his clothes, a bed, and an unusable workout bag.
The houseboat is available after completion of the mission Initiation.
Upgrades
There are four upgrades available for this apartment.
Giant Movie Poster (HKD $250) - Located on the triple road fork south of the Aberdeen Martial Arts Club, at the end of the sidewalk of the right fork.
Strange Idol (HKD $12000) - Located up a staircase in the side-streets south of the Aberdeen Apothecary Store.
Awesome Pet Bird (HKD $3000) - Located in a small stall northwest of the Aberdeen Docks Massage Parlor.
Stolen Art (HKD $5200) - Located to the west-southwest of the Awesome Pet Bird seller, around the back of a light blue two-story house next to to a pink one.
Gallery
Ad blocker interference detected!
Wikia is a free-to-use site that makes money from advertising. We have a modified experience for viewers using ad blockers

Wikia is not accessible if you've made further modifications. Remove the custom ad blocker rule(s) and the page will load as expected.