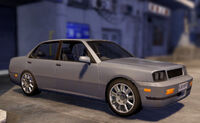 The
625 MHC
is a
vehicle
featured in
Sleeping Dogs
.
It is the civilian version of the 626 MHC Taxi found everywhere in Hong Kong. It's a compact sedan, and it's one of the most common sedans found in the city. 625 MHC is not purchasable, therefore, Wei has to steal it in order to drive it.
It is similar to Toyota Comfort. However, the somehow compact profile doesn't suit the real-life Toyota Comfort (the Toyota Comfort is a mid-sized car). The front and rear light are not similar to the real-life Toyota Comfort, but instead, similar to early 1990s Mazda Familia & 1994-1998 Toyota Corolla (US-Model).
Performance
The 626 MHC is a jack of all trades kind of vehicle that boasts average top speed, acceleration, handling and durability making this a decent choice for travel or escaping from the police at heat levels 1-2.
Trivia
It is possible to get one with different hubcaps, but it is very rare.
The default radio station of the 625 MHC is Softly Radio.