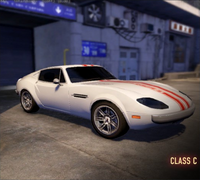 "Classic curves never go out of style."
―In game description
The 600 Coupe S is a vehicle featured in Sleeping Dogs.
The 600 Coupe S is given to the player at the beginning of the "Hotshot" case.
The car is based on the Nissan 240Z (specifically, the Z-G variant, since it has slanted nose), with a classic sports car look and shiny bumpers. It comes in two variants: plain-colored (can be seen around Hong Kong) and a striped one (usually found in street races and the variant Wei used from the beginning of the Hotshot case).
Old Salty Crab owns a green rusted one, which is used as an insertion vehicle in the mission Bad Luck. However, the rims are shiny and its performance is the same as a standard one. The superficial rust may simply be a reference to his touted "Old Salty Style". It is unobtainable, however because at the end of the mission, Old Salty Crab gets back in the car, says good-bye, and drives away. His variant will only be seen one more time afterwards, in Civil Discord. (In the main game) It can and must be driven in the Nightmare in North Point pack.
Gallery
Trivia
The green paint of the 600 Coupe S (just like Old Salty Crab's) replicates one of Nissan 240Z's factory color, Racing Green (the color itself is based on the British Racing Green color)
Ad blocker interference detected!
Wikia is a free-to-use site that makes money from advertising. We have a modified experience for viewers using ad blockers

Wikia is not accessible if you've made further modifications. Remove the custom ad blocker rule(s) and the page will load as expected.