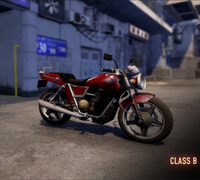 "This classic cruiser is focused on style, not speed."
―In game description
The 270 DX is a vehicle featured in Sleeping Dogs. It is given to Wei Shen after completing 'Night Market Chase', along with access to parking lots. Later, it is used to help take Amanda Cartwright to the kung fu school in the mission Amanda.
Gallery
Trivia
Ad blocker interference detected!
Wikia is a free-to-use site that makes money from advertising. We have a modified experience for viewers using ad blockers

Wikia is not accessible if you've made further modifications. Remove the custom ad blocker rule(s) and the page will load as expected.